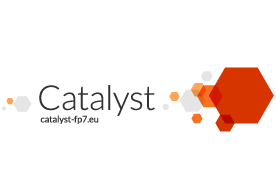 Public deliberation in complex socio-technical debates is critical, but poorly supported by today's social media platforms: it is hardly possible for citizens and community managers to quickly grasp the state of a public debate, know where they might best contribute to advance understanding, and effectively identify and pursue socially innovative ideas.
Within a Collective Intelligence (CI) Spectrum ranging from Sensing to Collective Action, CATALYST focuses on Contested CI (Sensemaking and Ideation) and aims to develop and test online deliberation tools for human-assisted harvesting and structuring of vast amount of social media data, in order to facilitate collective ideation, creativity and citizen engagement in collective decision-making processes.
In addition to this CATALYST will develop advanced analytics to measure the quality of the collective intelligence dynamics and feed it back to the community to make the collaborative process significantly more effective - avoid balkanization and groupthink, help identify irrational bias, controversial or immature topics, and facilitate conversation diversity.
CATALYST will deliver an ecosystem of CI tools and services that will augment existing social media platforms with Web-based Annotation tools; Recommenders to help users prioritise attention; Online creativity triggers; Interactive Visualizations, and Social Network and Deliberation Analytics.
CATALYST's consortium involves world-class researchers, such as The Open University and MIT centre for collective intelligence, and testbed partners, leaders in running international social innovation online networks, providing access to very large communities of citizens concerned with social and environmental practices (Ashoka, Imagination for People, Wikitalia), sustainable lifestyle (CSCP) and more participatory democratic processes (Purpose, Euclid Network).
Project Partners:
Sigma Orionis: http://sigma-orionis.com/
Imagination for People: http://imaginationforpeople.org/en/
The Open University: http://www.openuniversity.edu/
Universitat Zurich: http://www.uzh.ch/index.html
Euclid Network: http://www.euclidnetwork.eu/
CSCP: http://www.scp-centre.org/
Purpose: http://www.purpose.com/
Wikitalia: http://www.wikitalia.it/
---