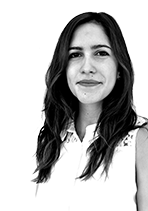 Paula Reyero Lobo
Marie Curie Early Stage Researcher
PhD. Student and Early Stage Researcher under the Marie Sklodowska-Curie Innovative Training Networks (ITN) programme.
As a member of the Social Data Science group, my research is a contribution to the EU project "NoBIAS- Artificial Intelligence without Bias".
This initiative targets algorithmic bias in AI. In particular, with a focus on the development of novel techniques leveraging semantic knowledge to better understand and deal with bias in data.
---
Publications
Reyero Lobo, Paula, Daga, Enrico, Alani, Harith and Fernandez, Miriam(2023). Knowledge-Grounded Target Group Language Recognition in Hate Speech. In: The Proceedings of SEMANTICS 2023, the 19th International Conference on Semantic Systems: Knowledge Graphs: Semantics, Machine Learning, and Languages (Acosta, Maribel; Peroni, Silvio; Vahdati, Sahar; Gentile, Anna-Lisa; Pellegrini, Tassilo and Kalo, Jan-Christoph eds.), Studies on the Semantic Web, IOS Press, pp. 1–18.
Reyero Lobo, Paula, (2023). Hybrid-based Target Group Language Recognition in Hate Speech. Postgraduate Research Poster Competition, The Open University.
Reyero Lobo, Paula, (2022). Bias in Hate Speech and Toxicity Detection. In: Proceedings of the 2022 AAAI/ACM Conference on AI, Ethics, and Society, ACM.
Reyero Lobo, Paula and Perez, Pablo(2022). Heart Rate Variability for Non-Intrusive Cybersickness Detection. In: ACM International Conference on Interactive Media Experiences, ACM.
Reyero Lobo, Paula, Mensio, Martino, Pavon Perez, Angel , Bayer, Vaclav, Kwarteng, Joseph, Fernandez, Miriam, Daga, Enrico and Alani, Harith(2022). Estimating Ground Truth in a Low-labelled Data Regime: A Study of Racism Detection in Spanish. In: Workshop Proceedings of the 16th International AAAI Conference on Web and Social Media.