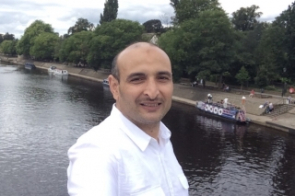 Dr Mohamed Bennasar
Lecturer in Artificial Intelligence
Keywords
Artificial Intelligence, Machine learning, Human motion analysis, wearable sensors, Data analysis, and Digital health
---
Publications
Gooch, Daniel, Mehta, Vikram , Stuart, Avelie, Katz, Dmitri , Bennasar, Mohamed, Levine, Mark,Bandara, Arosha, Nuseibeh, Bashar, Bennaceur, Amel and Price, Blaine(2022). Designing Tangibles to Support Emotion Logging for Older Adults: Development and Usability Study. JMIR Human Factors, 9(2), article no. e34606.
Stuart, Avelie, Katz, Dmitri , Stevenson, Clifford,Gooch, Daniel, Harkin, Lydia,Bennasar, Mohamed, Sanderson, Lisa, Liddle, Jacki,Bennaceur, Amel, Levine, Mark, Mehta, Vikram , Wijesundara, Akshika , Talbot, Catherine,Bandara, Arosha, Price, Blaine and Nuseibeh, Bashar(2022). Loneliness in older people and COVID-19: Applying the social identity approach to digital intervention design. Computers in Human Behavior Reports, article no. 100179.
Woodgate, Samuel, Morgan-Jones, Philippa, Clinch, Susanne, Drew, Cheney, Playle, Rebecca,Bennasar, Mohamed, Hicks, Yulia, Holt, Catherine, Bachoud-Lévi, Anne-Catherine, Massart, Renaud, Craufurd, David, Kirby, Nigel, Hamana, Katy, Schubert, Robin, Reilmann, Ralf, Rosser, Anne and Busse, Monica ,(2021). Objectively characterizing Huntington's disease using a novel upper limb dexterity test. Journal of Neurology (Early Access).
Bennasar, Mohamed, Banks, Duncan , Price, Blaine and Kardos, Attila(2020). Minimal Patients' Clinical Variables to Accurately Predict Stress Echocardiography Outcome: Validation Study Using Machine Learning Techniques. JMIR Cardio, 4(1), article no. e16975.
Islam, Riasat , Bennasar, Mohamed, Nicholas, Kevin, Button, Kate,Holland, Simon, Mulholland, Paul, Price, Blaine and Al-Amri, Mohammad(2020). A Nonproprietary Movement Analysis System (MoJoXlab) Based on Wearable Inertial Measurement Units Applicable to Healthy Participants and Those With Anterior Cruciate Ligament Reconstruction Across a Range of Complex Tasks: Validation Study. JMIR Mhealth Uhealth, 8(6), article no. e17872.
Gooch, Daniel, Mehta, Vikram , Price, Blaine, McCormick, Ciaran , Bandara, Arosha, Bennaceur, Amel, Bennasar, Mohamed, Stuart, Avelie, Clare, Linda, Levine, Mark,Cohen, Jessica and Nuseibeh, Bashar(2020). How are you feeling? Using Tangibles to Log the Emotions of Older Adults. In: Fourteenth International Conference on Tangible, Embedded, and Embodied Interaction (TEI '20), ACM pp. 31–43.
Bennasar, Mohamed, Mccormick, Ciaran , Price, Blaine, Gooch, Daniel, Stuart, Avelie, Mehta, Vikram , Clare, Linda,Bennaceur, Amel, Cohen, Jessica,Bandara, Arosha, Levine, Mark and Nuseibeh, Bashar(2019). A Sensor Platform for Non-invasive Remote Monitoring of Older Adults in Real Time. In: Innovation in Medicine and Healthcare Systems, and Multimedia, Springer Singapore, Singapore pp. 125–135.